Contract Staffing
Characterised with stringent compliance, fluctuating demand, a paucity of employable talent and market unpredictability, the modern business landscape offers a convincing rationale to employ a contract workforce in the business. You may not want to compromise on profits when you can adopt a 'just-in-time' strategy to bring the best workforce on-board using a contract staffing approach. With our cutting-edge contract staffing services, you can have all in one shot: An agile, smart, specialised, job-ready and cost-effective group of contract associates. We are one of the fastest growing contract staffing agency with an innovative outlook to offer functional and numerical flexibility to the client organisations by enabling them to remain productive with a contractual staff. We empower you to cope with adverse externalities while you can focus on your core competency without worrying about the staffing shortage. Being a resourceful contract staffing agency, we serve you as your HR Department in full capacity to handle all the people management issues, including payroll, Human Resource Information System (HRIS) and regulatory compliance for contract staff without bewildering your focus.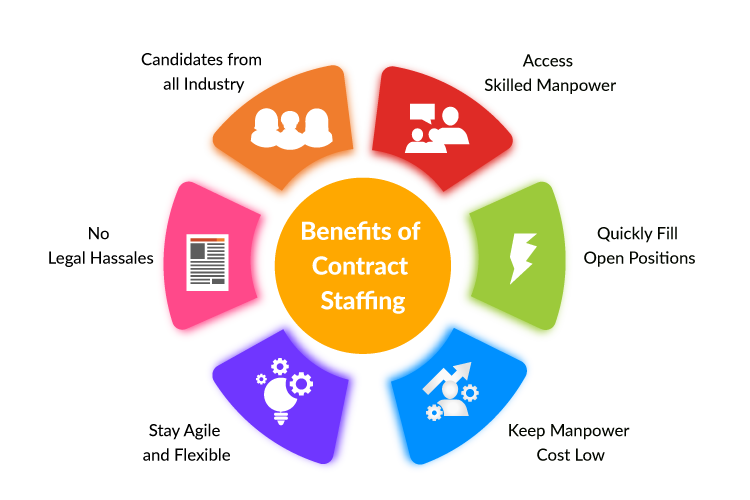 Whether you are a small and medium scale business or a large enterprise, you can always reap the advantage of the flexible labour market by partnering with us.  We hold rich expertise in serving the diverse sectors, including Blue Collar Recruitment, Contract Salesforce Recruitment, Supply Chain, Support Services and other wide range of sectors. We are one of the dynamic people management solutions providers who offers a pool of endowed manpower in high and low-skilled occupations across a broad range of secondary and tertiary industrial domains.
Benefits of association with JobDega?
Affordable staffing solutions when you collaborate with us as your staffing agency.
Hassle-free human resource management when your contract staff stays on our payrolls.
Enable you to make rapid adjustment in workforce proportion to achieve an ideal staff level when the economy is sluggish.
High Returns on Investment as we help you save hiring, training, administrative and transaction costs.
Sustainable business outputs when we help you to focus on your core strengths through outsourcing people management functions to us.
Effortless management when we take the legal responsibilities of being an employer to your contract staff.
High adherence to corporate governance practices when we ensure regulatory compliance for contract staff.
Swift availability of intellectual employees when you require a more significant workforce
End to End Human Resource Information System (HRIS) to centralise all your HR management needs
Why JobDega is a reliable contract staffing agency ?
Nurturing human resources with business ethics to meet the needs of contemporary value-driven organisations.
Exercising caution while recruiting the people to give you informed choices.
Delivering excellence by adopting a robust business process and result-oriented model.
Striving for long term engagement while bridging the gap between companies and employees.
Creating a sustainable pool of professionals through rigorous database management.
JobDega is the contract talent for your permanent productivity.